South Wales Fire and Rescue Service Heroes Honoured by the Queen for their outstanding contribution.
A serving fire officer and the Fire Authority Chair for South Wales Fire and Rescue Service have both made the Queen's Birthday Honours list, which recognises outstanding achievements and extraordinary people across the UK.
The dedication, courage and compassion seen from these recipients, be it responding on the frontline or out in the communities of South Wales is an inspiration. Councillor Tudor Davies and Group Manager Shaun Moody have gone above and beyond in their Service in protecting the public. Tudor has been recognised as a Member of the Order of the British Empire (MBE) and Shaun has received a British Empire Medal (BEM). From innovative collaboration, exceptional leadership to the development of life-saving training, Tudor and Shaun are true assets to the South Wales Fire and Rescue Service family.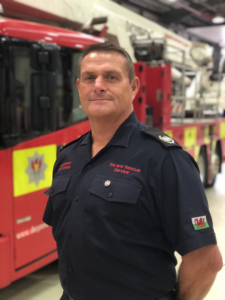 Group Manager Shaun Moody has dedicated his life to saving others and champions the development of search and rescue training world-wide. His expertise resulted in his appointment to the European Union Civil Protection Unit where he continues to influence the development of improved search and rescue techniques across Europe. Shaun has been pivotal in developing and delivering Service-wide training, culminating in cutting edge techniques and state of the art rescue equipment being used across South Wales.
Shaun's vision, commitment and leadership saw him facilitate the world's largest rescue event held in the Welsh capital. His commitment to helping others both nationally and internationally includes providing frontline support following major disasters such as the earthquakes in Sumatra (2009), New Zealand (2011) and Nepal (2015) where he led, commanded and coached others to perform complex rescues. His success has been recognised locally where he has received the Mayor Citizenship Award both at a Gold and Platinum level.
Shaun is a serving operational officer and has dedicated his spare time to helping others.  His passion to make a real difference by sharing his knowledge and expertise, often in his own time to ensure that UK and global communities can benefit.  His reputation in the field of search and rescue is unparalleled. Shaun has also contributed to charities by sharing learning and expertise and coaching firefighters in Ghana, Russia and Romania.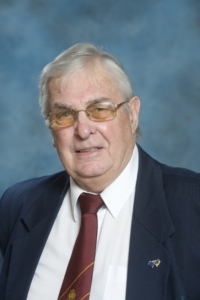 As Chair of the South Wales Fire and Rescue Authority, Councillor Tudor Davies through the years has provided true dedication in ensuring local communities benefit from a world class fire and rescue service. He has dedicated his life to representing the communities of South Wales as a local Councillor in Caerphilly County Borough Council for 37 years, as Chair of the Authority and in a range of unpaid volunteer roles. Tudor led the review in the suitability and location of all fire stations across South Wales achieving savings of £2m, whilst continuing to maintain effective fire cover and reducing the number of fire deaths to an all-time low.
His passion for collaboration has seen greater co-ordination between the three fire and rescue services in Wales leading to savings in excess of £7m over just 5 years. At 81, Tudor continues to serve as a local Councillor with unwavering dedication, commitment and a passion to make a difference. Tudor also provides a significant amount of time to charities, trusts and governing bodies and is a committed fundraiser raising thousands for Cancer Research.
South Wales Fire and Rescue Service's Chief Fire Officer Huw Jakeway QFSM said: "These accolades are truly well-deserved and I extend my warmest congratulations to all of those recognised by the Queen's Birthday Honours. We are privileged to have Councillors and officers like Tudor and Shaun, who work tirelessly to not only protect the communities of South Wales but also to proactively share their skills wider to reduce risk across the UK. This is just snapshot of the inspirational people working across our Service to make our communities safer, I am immensely proud to work alongside them."
A full list of recipients can be found on the London Gazette.