South Wales Fire and Rescue Service has opened its doors to the first of its kind Real Fire Training Facility (RFTF) in Wales, providing the highest standard of training for firefighters.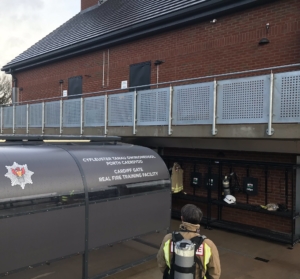 The three-storey training facility at Cardiff Gate boasts advanced technology that will enable firefighters to carry out high quality real fire training in a range of challenging real-life scenarios .
The unique structure, built by South Wales based construction company ISG, will simulate real fires in a range of building types.
Fitted with a bespoke smoke extraction system called a 'smoxidiser', the facility ensures that any smoke produced within the building is captured, extracted and filtered before releasing to atmosphere, meeting all legal and environmental requirements.
The 'RFTF' has a variety of built-in safety systems throughout the building which are monitored from a control room, ensuring the safety of all users.
The decision to build this innovative facility demonstrates the commitment of the Service to deliver the highest possible standards of training in the best facilities available to support our role in keeping the communities of South Wales safe.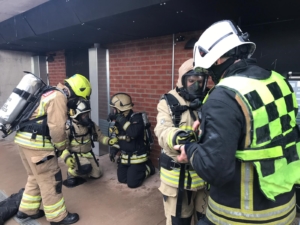 Built alongside and complementing our existing Cardiff Gate Training Centre, which already delivers an excellent quality of training using modern techniques in advanced facilities including; industrial and domestic training buildings, a multi-purpose climbing and abseiling tower, dedicated area for road traffic collision training, a confined space tunnel, rope rescue structure, areas for hazardous materials, and much more.
Head of Training and Development Area Manager Ian Greenman said: 'This is a landmark occasion for our Service and will equip 1,400 firefighters to maintain the skills and professional competencies needed to keep our communities safe. Having these fantastic facilities in the heart of South Wales will ensure our firefighters receive the best possible training to respond to a very wide range of emergencies."
Deputy Minister for Housing and Local Government, Hannah Blythyn AM said: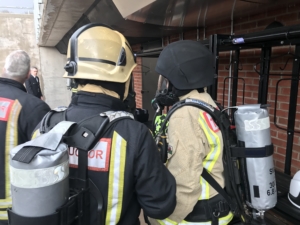 "I'm really pleased to officially open the South Wales Fire and Rescue Services' brand new training facility. I had a great first-hand experience in seeing for myself how our firefighters are trained. have no doubt our fire services' continued success in reducing both the incidence and severity of fires is made possible thanks to training facilities like this, which provide the ideal environment  firefighters need to train to fight fires both effectively and safely. I wish South Wales Fire and Rescue Service and all who will use the centre, every success."
Regional Managing Director for ISG, Rob Martin said: "Working collaboratively with South Wales Fire and Rescue Service, we have created one of the UK's most advanced firefighting training facilities right here in the heart of Wales. Safely providing the most realistic and extreme scenarios that our firefighters can face is an essential tool to create the skills, knowledge and behaviours that the service demands, and the centre has quickly established a national reputation for training excellence."