National Apprenticeship Week is an annual celebration of apprenticeships, the theme this year is 'Build the Future' and the week is a chance for us all to recognise how apprenticeships can help people develop the skills and knowledge they need to pursue a rewarding career.
South Wales Fire and Rescue Service is proud to be part of the Welsh Apprenticeships Programme, which provides valuable opportunities for apprentices to develop work related skills and experiences, and gain a qualification.  The scheme also allows apprentices to play an important role in helping us provide a service to our communities.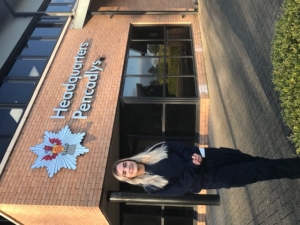 Alysha Chappell a 19 year old ICT engineer is the Service's newest apprentice who joined in November 2020. Alysha finished school, worked in a supermarket for a year before joining the Service on a three year apprenticeship scheme.
Alysha said: "My apprenticeship has been very rewarding for the short time I've been in the organisation, everyone has been very welcoming but I've learnt valuable but transferrable skills since joining. Working to tight deadlines, problems solving, quick thinking and being a team player is day to day skills which I'm embraced in.
I would recommend doing an apprenticeship to anyone. University isn't the only option to get a good career in life, there's other ways to do that and get paid whilst you do it."
Alysha stated that she hopes to carry on within the role after her three years and develop within the organisation.
In addition to Alysha, Apprentice Tia Magan, 17, joined the Service in October last year within the Service Performance and Communications Department as an Administrator. Tia is on a two year contract and is hoping to follow in her Father's footsteps and become a Wholetime Firefighter in the future.
Not only do we have corporate apprentices in the Service but we also have operational. Cardiff Gate Training Centre currently have three apprentices which are currently thriving in their positions.
Here's what they had to say:
Luke Davies (Firefighter) – "I'm enjoying learning a brand new skill set, not just firefighting but life skills. I have learned a broad set of skills from pitching a ladder to fire safety. The apprenticeship is set in a progressive manner and aimed at all skill levels and walks of life."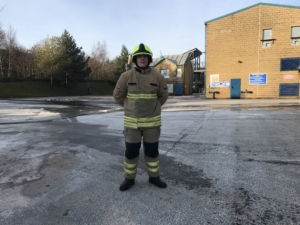 Richard Jones (Firefighter) – "I'm enjoying learning new skills, making new friends all whilst having fun. I have learned how to be an effective part of the team working together with one common goal. The apprenticeship is allowing me to learn and get paid at the same time in a fun and professional environment.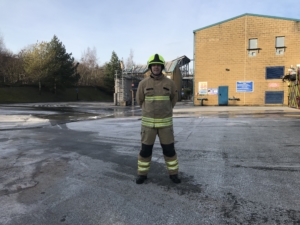 Aisha Finlay (Firefighter) – "I have enjoyed meeting new people and the camaraderie of the team. I have learned to work under pressure and communicate with my team mates to achieve our tasks and I get to learn on the job whilst getting paid to do so which is great."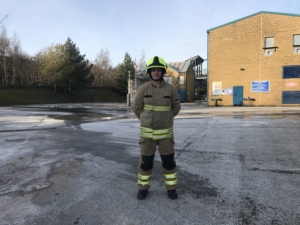 South Wales Fire and Rescue Service is committed to making our communities the safest place to live, work and visit.  In order to achieve this, we know that we need to invest in attracting, retaining and developing the best people for every position across the organisation.
South Wales Fire and Rescue Service believes in the value a diverse workforce. We proactively encourage applicants from all backgrounds in order to represent the communities we serve.
If you're consider an apprenticeship with South Wales Fire and Rescue and want to follow in the footsteps of Alysha and Tia and you need further information, please contact the recruitment team on 01443 232200 or for more information head over to our Apprenticeship page.