International Men's Day is celebrated annually on 19 November. Every year a secondary theme is given for the celebration. This year's theme is 'Men Leading by Example'. 
This day was founded by Dr Jerome Teelucksingh in 1999, though calls for an international men's day have been going on since at least the 1960s. By now, more than 12 countries across the globe celebrate the event, with interest increasing rapidly.
The six pillars of International Men's Day are to:
promote positive male role models
celebrate men's positive contributions to society
focus on men's health and wellbeing
highlight discrimination against men
improve gender relations and promote gender equality
create a safer, better world.
In keeping with this year's theme, here are some of the many South Wales Fire and Rescue Service colleagues who are 'Leading by Example':
Gareth Green – Senior Health & Fitness Adviser and Elliot Rees – Health & Fitness Adviser
The Health & Fitness Advisers promote physical activity in the workplace in several ways, in order to encourage South Wales Fire and Rescue Service employees to participate in physical activity.
Examples of this include walking groups, physical activity presentations to all new starters, developing gym facilities across the service, individualised fitness and nutrition advice, raising awareness of the 'Cycle to Work Scheme,' routine fitness testing for operational staff, providing 'Workout of the Week,' fitness input during initial firefighter training courses as well as promoting national campaigns such as 'National Fitness Day.'
Here are our Advisers top tips on looking after your mental and physical wellbeing:
Try to be as active as possible and choose physical activities you enjoy. Activities undertaken outside will be particularly beneficial. Group activities are also great at helping people to stay motivated.
Get good quality sleep and if you struggle with this try methods such as relaxing music, reading before bed, meditation/mindfulness, breathing techniques or turning off electronic devices before going to bed.
Drink plenty of water.
If you are struggling with your mental health, then seek help.
Eat a healthy balanced diet.
Gareth & Elliot – "It is extremely important that we celebrate International Men's Day as it provides the opportunity for all of us to reflect on the positive work that has been achieved by men across the world, and that we can all learn and develop from these successes."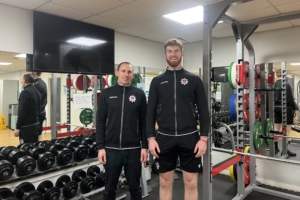 Carl Marsh – Firefighter
As one of the many FireFighters in the service, protecting our communities in South Wales, Carl is an excellent role model as a Firefighter and through his adventures.
Being faced with different scenarios day in and day out that can be very challenging in many ways, Carl enjoys an active lifestyle outside his demanding role as a Firefighter, enjoying nature through paddleboarding, hiking and camping, as a way to balance his wellbeing.
In March 2023, Carl will be trekking to Everest Base Camp to raise money for the following charities: The Fire Fighters Charity, Velindre Cancer Centre and The Stroke association. These charities do some amazing work within our local community, and Carl's family members have had personal experience of those conditions over the last few years. Having experienced trauma whereby you're taught that time is precious, he then decided to start ticking off his bucket list and Everest was next, all the while raising money for some incredible charities.
"During International Men's Day, it's important to recognise the many different types of men that do have a positive impact on society, as well as try to understand why others may struggle. During International Men's Day I'd really like to see the term "mental health" replaced with "Mind Health" I feel the words "mental health" have a negative impact the minute those words are mentioned. It would be hugely beneficial for everyone to be able to be open and honest and to have discussions about their thoughts and feelings without feeling like they're being judged in everyday life."
If you are interested in donating to this fundraising challenge, please click here.
Rhys Griffiths – Crew Manager, Operational Youth Liaison Team
Rhys is currently in the Community Safety Team helping on a range of projects, particularly Road Safety Week. The team do some brilliant work educating young people on the risks that come with irresponsible driving, but it seems that young professional sportsmen and women are not receiving the same information that college students do. Rhys and the rest of the Community Safety team are working through as many of these groups as possible in Winter 2022, including the likes of Cardiff City, Newport County and Penybont FC.
Road traffic collisions are the biggest killer of 15-25 year-olds in Wales, which is a statistic the Road Safety Team is working hard to change. Rhys said "The work we do in Community Safety is vital for reducing risk and providing guidance to young people in particular. Sometimes it's hard to quantify the impact we have, but if we deliver to thousands of people as we are this week, and a handful start driving more responsibly, we're winning."
During International Men's Day, Rhys would like to see more on individuality, quoting Oscar Wilde "Be yourself, everyone else is already taken."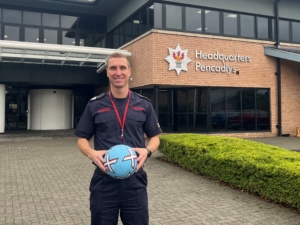 Movember Crews 
Most of us are already aware of Movember. Movember is a charity that works towards raising awareness and funds for men's health – specifically prostate cancer, testicular cancer, mental health and suicide prevention.
Below are pictures of some of our male colleagues and their Movember 'taches.
Colleagues at Headquarters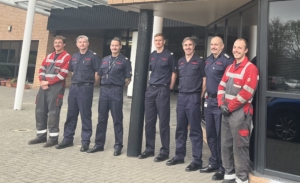 Aberbargoed Blue Watch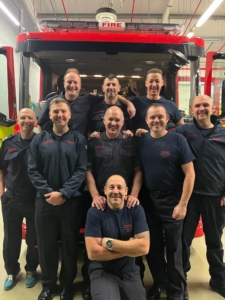 If you would like to donate to Aberbargoed's Movember fundraiser, please click here.
Bridgend White Watch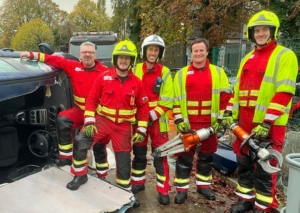 If you would like to donate to Bridgend's Movember fundraiser, please click here.
For more information on International Men's Day, visit: https://internationalmensday.com/.