This January 2022, South Wales Fire and Rescue Service is recruiting for Wholetime Duty System (full-time) Firefighters. Is it your ambition to say "I am a Firefighter"? Can you be more than the uniform, more than the badge? We want to hear from you! We are looking for people who want to make a difference within their community, who are disciplined and focused and can help us keep South Wales a safe place to live, work and travel.
As part of our process, you will need to demonstrate that you share our Core Values and are prepared to commit to the level of training and fitness required to meet the challenging demands of this important role.
What can you expect from the role?
Read the candidate information pack, which is now available.
Read more about being a Wholetime Firefighter.
Watch our full video below.
Next steps
Applications closed at 1pm on 19th January 2022.
If shortlisted, successful applicants will then be asked to attend an ability test. Following on from this stage successful candidates will be invited to attend physical and practical tests, before the final stage, which is an interview.
These stages of the process will be held between late February and April 2022.
View the recruitment process here.
Please note: this is a highly competitive process.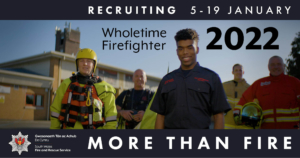 Any questions?
Read our frequently asked questions.
If you have any enquiries, please contact our dedicated Whole-time Firefighter recruitment team by emailing: wds@southwales-fire.gov.uk.
Working with South Wales Fire and Rescue Service
South Wales Fire and Rescue Service recognises the value of having a diverse workforce and encourages applicants from all members of our communities to apply.  At South Wales Fire and Rescue Service, we know embracing genuine equality and diversity is an ongoing journey.
We are passionate about:
making everyone in our communities safer
being an employer that reflects all the people we serve
treating both the public and our staff with dignity and respect
We are also recruiting for On-Call Firefighters. Read more on firefighter roles here.