Coronavirus information for South Wales Fire and Rescue staff only. If you're staff of SWFRS, please read our useful information for colleagues who are working from home or out of the office, with limited access to the intranet.
Critical Incident Team
Our Critical Incident Team meets regularly throughout the week, with all significant updates made available to staff as soon as possible.
Health guidance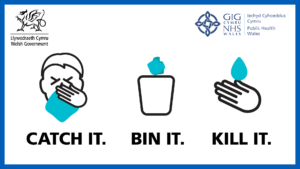 Visit the Public Health Wales COVID-19 Coronavirus page for updates.
Coronavirus symptom checker
Use the NHS Direct Wales Coronavirus symptom checker
What should I do if I think I have the Coronavirus?
The symptoms of coronavirus include a cough, a high temperature and shortness of breath or a loss of or change to sense of smell and/or taste (anosmia). These symptoms can be similar to other common illnesses, including winter colds and flu.
Everyone in Wales (over the age of 5) experiencing the above symptoms can now book a coronavirus test
If you live alone and you have symptoms of coronavirus illness (COVID-19), however mild, stay at home for 7 days from when your symptoms started.
If you live with others and you are the first in the household to have symptoms of coronavirus, then you must stay at home for 7 days, but all other household members who remain well must stay at home and not leave the house for 14 days.
If you feel you cannot cope with your symptoms at home, or your condition gets worse, or your symptoms do not get better after 7 days, then use the NHS 111 online coronavirus service. If you do not have internet access, call NHS 111. For a medical emergency dial 999
Do not attend work, a GP surgery, pharmacy or hospital.
How can I protect myself and other people?
Follow the Welsh Government Coronavirus guidance.
Washing your hands is one of the easiest ways to protect yourself and others from Coronavirus. Public Health Wales recommend that you:
Wash your hands more often than usual, for 20 seconds using soap and hot water, particularly after coughing, sneezing and blowing your nose, or after being in public areas where other people are doing so.
Use hand sanitiser if that's all you have access to.
To reduce the spread of germs when you cough or sneeze, cover your mouth and nose with a tissue, or your sleeve (not your hands) if you don't have a tissue, and throw the tissue away immediately. Then wash your hands or use a hand sanitising gel.
Clean and disinfect regularly touched objects and surfaces using your regular cleaning products to reduce the risk of passing the infection on to other people.
FAQs for staff
You can view the NHS Wales info for emergency services staff
There are also Welsh Government FAQs on school closures.
View the school childcare hub information for key workers.
Staff wellbeing
We're here for you.
As a Service we want to ensure you have access to the right support and information during this time of uncertainty. It's important to remember that staying at home may be difficult, but you are helping to protect yourself and others by doing so.
Here are some tips to help. Please make sure you get further support if you feel you need it:
Self-isolating wellbeing tips
Social distancing does not mean emotional distancing; use technology to connect widely;
Clear routines and schedule, seven days a week, at home—don't go overboard;
Exercise and physical activity, daily if possible;
Learning and intellectual engagement—books, reading, limited internet;
Positive family time—working to counter negativity;
Alone time, outside if possible, but inside too; but remember, don't isolate;
Focused meditation and relaxation;
Remember the things that you really enjoy doing, that you can do in this situation, and find a way to do them;
Limit exposure to TV and internet news; choose small windows and then find ways to cleanse yourself of it;
These tips were from Partners in Health.
Mind guide to Coronavirus and wellbeing.
Our Frontline offers round-the-clock one-to-one support, by call or text, from trained volunteers, plus resources, tips and ideas to look after your mental health. Text 85258
Useful contacts and further information
If you are away from the workplace due to social distancing (14 day) or shielding (12 week), we will be in touch to see how you are.
What if I need urgent help?
Read this list of website and contact numbers for safeguarding support.
Visit the NHS site for urgent support.
Free 24hrs listening support
When life is tough, Samaritans are here to listen at any time of the day or night. You can talk to them about anything that's troubling you, no matter how difficult.
Call free on 1166 123 or visit the Samaritans website.
Or
Shout offers confidential 24/7 crisis text support for times when you need immediate assistance
Text 'SHOUT' to 85258 or visit the Shout website.