Abi Naci
Procure to Pay Assistant.


Headquarters Llantrisant



 Before joining South Wales Fire & Rescue Service I wasn't sure what to expect, as most people generally tend to think that the Service is just for men. But, since starting work in Headquarters, it was obvious that this is not the case and that women also play a big part in the day to day running of the Service.
After I left school, I knew that I wanted to start working as soon as possible so when I saw the advert for an Apprenticeship within SWFRS I thought it seemed like the perfect option. Not only was I learning a lot of new skills, but I was able to earn money at the same time. This Apprenticeship was particularly appealing to me because the Service is such a highly respected public sector organisation, and I wanted to be able to learn more about its role in the community.
Once successful at the selection process, I started working within the Accounts department where I learned about the purpose of petty cash, banking, invoicing customers etc. Since then I have secured a role within the Service's Procurement department where I have learnt about placing orders for the Service and paying invoices to suppliers which has been really enjoyable.
In addition to learning about my role I have also had the opportunity to learn more about other roles within the Service such as Firefighters and Control staff.  I have had the opportunity to take part in a "Firefighter for the Day" team building day. This was a good experience because we tried abseiling, watched a demonstration which showed the techniques used to remove people trapped in vehicles, tested out the hydraulic equipment and did a series of tasks in the Breathing Apparatus (BA) complex including trying on the BA sets and attempting the "crawl cages".
During my induction I also had the opportunity to sit in a car whilst a fire crew cut me and a colleague free. I have also visited our Control room in Pontyclun where we listened to previous training calls.
All of these experiences were fun but they also helped to open my eyes to the tasks that Firefighters and Control staff have to carry out on a daily basis to protect the community and this helped me understand how my role plays a part in everything that is achieved within the Service.
South Wales Fire & Rescue Service is a really good organisation to work for and the people have been friendly and welcoming since the day I started. There is a sense of team spirit and everyone is always happy to help. For these reasons I would recommend that anyone interested in a career within the Service should definitely pursue it because in my personal experience, applying for a job here was the best decision I have made. I would also say that any women interested in applying should definitely do so, and not be put off by the stigma that the Fire & Rescue Service is a man's world.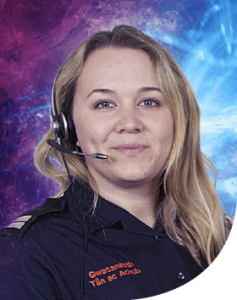 Chloe Pullen
Crew Manager. White Watch. Control
My name is Chloe and I have been working with South Wales Fire & Rescue Service (SWFRS) for nearly 8 years. My dad is also in SWFRS, so I have been brought up with the Service and it is an environment that I have always wanted to be a part of.  
I always wanted to be a Firefighter but I am very squeamish so I had to admit defeat when I left college and needed to get a job. It was then that I discovered that I could work in the Fire Control room, still helping people and being involved in incidents helping and supporting the public.
I have learnt so much during the last 8 years, I have done a level 3 NVQ, Attained a Trauma First Aid qualification, completed my Health and Safety qualification and I have done many management courses that help me in my role as a Crew Manager.
Since starting in the Fire Control Room, I have had two children and I was supported throughout both of my periods of maternity leave by the organisation who have a really good range of both maternity, paternity and family friendly policies. My husband is a Firefighter so our shift work makes childcare more manageable. Although night shifts can be hard work with small children, they enable me to be home more during the day which is important to us as a family.
Working within my current role I love knowing that I am helping the community and supporting front line Firefighters to protect the public.  It makes me feel very proud to work for SWFRS.
Clare Amor
Retained Duty  System Firefighter
Chepstow
I always wanted to be a Firefighter from a young age but due to a different career path, marriage and children it was not something that I pursued until later in life. At the age of 37 my life changed and I decided to apply to South Wales Fire and Rescue Service and was successful in joining the team as an Operational Firefighter based at Chepstow Station.
I found the training fairly challenging but with a reasonable level of fitness it was immensely enjoyable, learning new skills within a disciplined structure. Once on the station I formed a close bond with the rest of the watch enjoying the variation of the different parts of station life, work and routines. I found there was a lot more than just answering emergency calls which is the main reason I joined. The job and personal satisfaction following a successful rescue at a fire, RTC or other incident is always there and as a crew you really feel like you have made a difference. Community safety and prevention work forms a large part of station life and I find I enjoy this as much as attending emergency calls and although not as adrenalin-fuelled, the satisfaction of helping people from all different walks of life is always there.
Moving forward the job as a Firefighter is always evolving and my station is now attending First Medical Response calls in collaboration with the Ambulance Service as part of a nationwide trial. This has given me and the Watch new challenges with extremely rewarding  results.
I would have to say that I enjoy the job as much now as I did when I first joined, I love working as part of a close knit team within the larger team of South Wales Fire & Rescue.
Karen Levett
Wholetime Duty System
Red Watch, Penarth
Hi I'm Karen and I became a Firefighter 11 years ago and  it's one of the best decisions I ever made.  I previously worked for a large Corporate Company and whilst I liked my job, it didn't completely satisfy me.  Something was missing!  I'd always wanted to be a Firefighter but didn't have the confidence to apply, but now I can honestly say I wish I'd done it sooner.
Being a Wholetime Duty System (WDS) Firefighter is much more than just fighting fires.  My job varies from day to day including cutting people from cars, rescuing animals, conducting water & boat rescues, educating school children on fire safety and visiting vulnerable people advising them on how to keep safe in their homes and yes of course fighting fires!  These are just a few of the roles we take on.
It's all about working closely as a team and that's what attracted me to becoming a Firefighter.  I soon discovered everyone on the watch brings their own strengths, so when we work together we bring out the best in each other.  Being the only female on my watch I might not physically be the strongest but I am stronger in other areas, I'm part of the team.
So, if you like love working in a team, want a job that offers daily challenges and variety, are keen to learn new skills as well as helping children and adults in the community…. challenge yourself and become a Firefighter.  You will never look back!