We believe that if a woman "can see it, she can be it". As the most under-represented group in our Service, a top goal for us is to create a workforce in which all women are supported to be all they can, and are equally valued for their skills, expertise, resilience, knowledge, and contributions, as part of #TeamSouthWales.
Abi Naci
Procure to Pay Assistant.


Headquarters Llantrisant



 Before joining South Wales Fire & Rescue Service I wasn't sure what to expect, as most people generally tend to think that the Service is just for men. But, since starting work in Headquarters, it was obvious that this is not the case and that women also play a big part in the day to day running of the Service.
After I left school, I knew that I wanted to start working as soon as possible so when I saw the advert for an Apprenticeship within SWFRS I thought it seemed like the perfect option. Not only was I learning a lot of new skills, but I was able to earn money at the same time. This Apprenticeship was particularly appealing to me because the Service is such a highly respected public sector organisation, and I wanted to be able to learn more about its role in the community.
Once successful at the selection process, I started working within the Accounts department where I learned about the purpose of petty cash, banking, invoicing customers etc. Since then I have secured a role within the Service's Procurement department where I have learnt about placing orders for the Service and paying invoices to suppliers which has been really enjoyable.
In addition to learning about my role I have also had the opportunity to learn more about other roles within the Service such as Firefighters and Control staff.  I have had the opportunity to take part in a "Firefighter for the Day" team building day. This was a good experience because we tried abseiling, watched a demonstration which showed the techniques used to remove people trapped in vehicles, tested out the hydraulic equipment and did a series of tasks in the Breathing Apparatus (BA) complex including trying on the BA sets and attempting the "crawl cages".
During my induction I also had the opportunity to sit in a car whilst a fire crew cut me and a colleague free. I have also visited our Control room in Pontyclun where we listened to previous training calls.
All of these experiences were fun but they also helped to open my eyes to the tasks that Firefighters and Control staff have to carry out on a daily basis to protect the community and this helped me understand how my role plays a part in everything that is achieved within the Service.
South Wales Fire & Rescue Service is a really good organisation to work for and the people have been friendly and welcoming since the day I started. There is a sense of team spirit and everyone is always happy to help. For these reasons I would recommend that anyone interested in a career within the Service should definitely pursue it because in my personal experience, applying for a job here was the best decision I have made. I would also say that any women interested in applying should definitely do so, and not be put off by the stigma that the Fire & Rescue Service is a man's world.
Amy  Jenkins
Fire Cadet Manager


Headquarters Llantrisant
I'm Amy Jenkins. I'm currently the Fire Cadet Manager for South Wales Fire and Rescue Service.
I knew when I left school that I had no desire to attend university or college. I always knew that I'd start somewhere and work my way up.
I heard about the organisation though a family friend, who suggested that the service were seeking a welsh speaker for the reception area. Little did I know this was the start of an amazing journey for me!
I was successful at interview, and during my time on reception, I was able to understand each sub department in the Service.
I noticed on our internal intranet pages that the organisation was advertising for their apprenticeship positions. I applied for Community Safety Apprentice and was successful, soon learning that Community Safety did a lot more than engage with the community. This department presently has two distinct areas of responsibility, Community Safety and Partnership working. Various programmes and initiatives are run by the function such as Crimes and Consequences, Fit and Fed, Phoenix, Crucial Crew, Fire Cadets, Fire Crime and Home Safety.
I was successful in obtaining a maternity cover position as Education Co-Ordinator, as a development opportunity. I took initiative and lead on many different projects and short term intervention schemes such as the 'Bernie Roadshow'. I thoroughly enjoyed my experience in this department and it allowed me to develop better working relationships with Stations, Partners and other Fire and Rescue Services.
This role prepared me for my most recent accomplishment….
Following the return of the post holder, I applied for the Fire Cadet Manager position. It was a very competitive process and was much more difficult at interview due to the grade level of the role. Fortunately, I was successful for the role. This was my first permanent position within the organisation.
Fast forward to a year and a half later, and I'm thoroughly enjoying the ever changing working environment that I am working in. I have developed a short term initiative in a prison setting structured with a qualification, organised events and hosted a fundraiser for South Wales Cadets, which was completed over the lockdown period. I am still continuing to develop my self-confidence, communication, working relationships, interpersonal skills and leadership skills.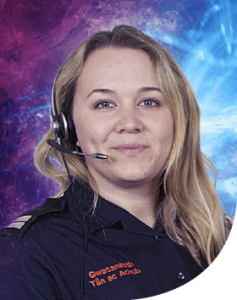 Chloe Pullen
Crew Manager. White Watch. Control
My name is Chloe and I have been working with South Wales Fire & Rescue Service (SWFRS) for nearly 8 years. My dad is also in SWFRS, so I have been brought up with the Service and it is an environment that I have always wanted to be a part of.  
I always wanted to be a Firefighter but I am very squeamish so I had to admit defeat when I left college and needed to get a job. It was then that I discovered that I could work in the Fire Control room, still helping people and being involved in incidents helping and supporting the public.
I have learnt so much during the last 8 years, I have done a level 3 NVQ, Attained a Trauma First Aid qualification, completed my Health and Safety qualification and I have done many management courses that help me in my role as a Crew Manager.
Since starting in the Fire Control Room, I have had two children and I was supported throughout both of my periods of maternity leave by the organisation who have a really good range of both maternity, paternity and family friendly policies. My husband is a Firefighter so our shift work makes childcare more manageable. Although night shifts can be hard work with small children, they enable me to be home more during the day which is important to us as a family.
Working within my current role I love knowing that I am helping the community and supporting front line Firefighters to protect the public.  It makes me feel very proud to work for SWFRS.
Clare Amor
Retained Duty  System and Wholetime Firefighter

I always wanted to be a Firefighter from a young age but due to a different career path, marriage and children it was not something that I pursued until later in life. At the age of 37 my life changed and I decided to apply to South Wales Fire and Rescue Service and was successful in joining the team as an Operational Firefighter based at Chepstow Station.
I found the training fairly challenging but with a reasonable level of fitness it was immensely enjoyable, learning new skills within a disciplined structure. Once on the station I formed a close bond with the rest of the watch enjoying the variation of the different parts of station life, work and routines. I found there was a lot more than just answering emergency calls which is the main reason I joined. The job and personal satisfaction following a successful rescue at a fire, RTC or other incident is always there and as a crew you really feel like you have made a difference. Community safety and prevention work forms a large part of station life and I find I enjoy this as much as attending emergency calls and although not as adrenalin-fuelled, the satisfaction of helping people from all different walks of life is always there.
Moving forward the job as a Firefighter is always evolving and my station is now attending First Medical Response calls in collaboration with the Ambulance Service as part of a nationwide trial. This has given me and the Watch new challenges with extremely rewarding  results.
I would have to say that I enjoy the job as much now as I did when I first joined, I love working as part of a close knit team within the larger team of South Wales Fire & Rescue.
Karen Levett
Wholetime Duty System
Red Watch, Penarth
Hi I'm Karen and I became a Firefighter 11 years ago and  it's one of the best decisions I ever made.  I previously worked for a large Corporate Company and whilst I liked my job, it didn't completely satisfy me.  Something was missing!  I'd always wanted to be a Firefighter but didn't have the confidence to apply, but now I can honestly say I wish I'd done it sooner.
Being a Wholetime Duty System (WDS) Firefighter is much more than just fighting fires.  My job varies from day to day including cutting people from cars, rescuing animals, conducting water & boat rescues, educating school children on fire safety and visiting vulnerable people advising them on how to keep safe in their homes and yes of course fighting fires!  These are just a few of the roles we take on.
It's all about working closely as a team and that's what attracted me to becoming a Firefighter.  I soon discovered everyone on the watch brings their own strengths, so when we work together we bring out the best in each other.  Being the only female on my watch I might not physically be the strongest but I am stronger in other areas, I'm part of the team.
So, if you like love working in a team, want a job that offers daily challenges and variety, are keen to learn new skills as well as helping children and adults in the community…. challenge yourself and become a Firefighter.  You will never look back!
Jodie Hobbs

ICT Service Desk Operator 
Headquarters Llantrisant
My name is Jodie and I started working for South Wales Fire and Rescue Service (SWFRS) at the age of eighteen and have been here for nearly five years since looking for work in an ICT environment. I work as the ICT Service Desk Operator, as the first point of contact for anyone within the service who needs to report an ICT problem and to offer help with any queries. The job has allowed me to develop many skills and I have met people who have made a positive impact on my life personally and in my career.
I was excited to start as I didn't know anything about the Fire Service, I was looking forward to a new chapter in life after leaving school and deciding to work and not to continue with education.
During my time here I have been able to develop many skills to help me in the future and have expanded my knowledge of ICT and the working world in general. I have been a part of many changes that have happened within ICT for the service as things are constantly changing and have always been able to learn even if I am not directly involved. Being a part of such a large team allows you to meet many people with a wealth of knowledge and experience.
My colleagues have been very supportive during my journey and offer advice and encouragement for me to progress constantly. The service has many opportunities for anyone who wants to either progress in the department they are in or even venture down a different path.
For me South Wales Fire and Rescue Service has been an amazing place to work, being the only job I have had I couldn't have asked for a warmer or friendlier place. There are so many opportunities whether it be office based or operational, and help is always on hand if you are looking to progress or change your path. I find my role very rewarding knowing I play a part in helping others whether it's directly or indirectly. Any role here helps make a difference for the good.
Michelle Deasy

Procurement  – 
Headquarters Llantrisant
My name is Michelle I initially joined South Wales Fire and Rescue Service in 2010 as the Finance and Procurement undergraduate student, where I worked for a year as part of my University course.  I was then kept on part time within the Procurement department as I completed my degree, which really helped me put into practice what I was learning in University.  After some time away from the Service, I re-joined in 2015 back within the Procurement team and haven't looked back since!
Since re-joining I have worked in various roles within the Procurement team where we purchase various goods and services for use by SWFRS.  Part of this includes undertaking tenders on behalf of the Service, so I get to work closely with other departments and suppliers to make sure what we are buying meets the needs of the Service. Tenders can be for anything we need including Building Maintenance, Fitness Equipment and Training Courses, so the job is always varied!  I've also had opportunities to progress and work in different teams since returning and I'm currently working in Stores, where we stock and issue uniform, PPE and operational equipment amongst other things to Stations and other departments.
I really enjoy working for South Wales Fire and Rescue Service as everyone is friendly, welcoming and always willing to help to get the job done!  I also really enjoy that no two days are the same so there's always a new challenge.
Natalie Pearce

  – 
Joint Fire Control
I joined the fire service in 1998 after amalgamation but before the 3 controls from Cardiff, Gwent and Mid Glamorgan joined together in Llantrisant. I had trained to be a secondary school teacher and I took the job temporarily to fill maternity leave whilst continuing to look for a teaching role. As soon as I joined I loved the job and didn't think about returning to teaching.
I have really enjoyed my career so far, the pace is fast and the work is very varied. You can have a work plan for the day and that can change in a moment due to incident activity and call demand.
The radio and mobilising systems are central to control work, and the planning, implementation and training schedules are very challenging as they change so much due to their complexity. I enjoy the problem solving challenges this presents and the opportunity to be always learning.
I was seconded to London for 18 months to work on the FiReControl project and that taught me a lot about testing and looking at new ways of working and streamlining processes. I am incredibly proud of the work control has undertaken to keep the controls in Wales at the forefront of technology and I think we are a trailblazer for controls in the UK!
The long hours required to oversee change and the on call commitment can be a challenge with a young family and there is a lot of juggling to make this work and my family do not see as much of me as a result. I am lucky that my mum and husband have been very supportive to allow me to pursue my career, travel around to meetings whilst they pick up the home side of my life. The job is very demanding but has taught me to have boundaries and self-care in place. This is something the service encourages and supports.
I have studied for a diploma and a certificate for fire service management and my teaching qualifications and degree have helped me to carry out training, write reports and make presentations. I never know what my next challenge will be. Control is not just about taking calls and answering the radio, if you are confident and prepared to try your hand at anything you can have a very varied career.
I enjoy the team ethos of working together to solve problems and resolve incidents. The Fire Service is a small community really so you come across the same people and you can build good working relationships that work well when under pressure. Storm Dennis and Jorge were recent examples where the pressure was intense but the emergency community came together to keep our communities safe.
I have been privileged to work through some high profile events such as the Ryder Cup, NATO and the Olympics, once in a career moments, and now the Coronavirus pandemic has presented different challenges. Storm Dennis was the most challenging so far as the devastation and sheer volume of calls was difficult, having been flooded twice myself my heart went out to the callers knowing how much work the coming months would bring for them. It has certainly been a non-stop 22 years so far with another 18 to go.