This page is dedicated to Men and has been written by Male employees at South Wales Fire and Rescue Service for their future Male colleagues.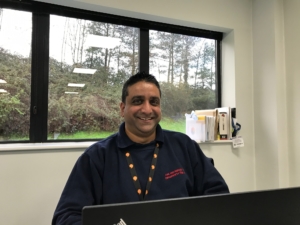 Niluka Eratne

ICT Engineer based at Headquarters, Llantrisant
My name is Nilks and I have been working as an ICT engineer for SWFRS since October 2015. I currently in the Transformation Team looking at future projects and policies. I work in a challenging environment making sure that the IT needs of Stations and Offices are running as efficiently as possible. Whilst doing this my department are constantly looking to improve the use of IT within the Service to make our end user service the best it can be. We are a very diverse department and we have a big part to play in all aspects of the service. We are mostly seen in the background but essential to the day to day running of the organisation.
I am currently based in the Communication department working with the mission critical equipment for the Fire appliances and for Firefighters, so that in emergency cases the technology we use is smooth and seamless so we can attend incidents at speed and with total accuracy. It is very fulfilling to know that although we are not at the forefront of an emergency incident, what we do in the background is essential in ensuring that the general public get the response needed and expected of an emergency service.
Working for SWFRS makes me feel very proud and I truly enjoy coming to work every day. Working within so many different departments with different needs is a big challenge but one that all of the ICT team thrive upon. I look forward to working many more years with SWFRS with the aim to improve and develop the use of ICT to make our Service stand out as one of the best.
Norman Rees

Joint Fire Control
My name is Norman Rees, I am a father of beautiful twins, one boy and one girl, as well as owning my Labrador dog, Floyd. I have worked in Fire Control for 24 years. When you dial 999 for the Fire Service you speak to me or one of my colleagues and we are responsible for sending the resources to where they are needed. We are the first people that the public speak to when they need help.   I am currently Crew Manager in Prevention & Protection. My duties include liaising with Operational crews to get policies and procedures right so we can give the best service to the public and keep our crews safe. I also deal with protection of vulnerable persons in the community and work with other agencies to get them the help they need to keep them safe from harm.
No day is the same in Fire Control. I might be dealing with wildfires one day and the following day, flooding. There is no way of telling what the next call will be and that is part of what makes this job so different from any other. I have been lucky to have worked with so many brilliant people over the years and have learnt from every one of them.
After 24 years in the job which has seen many changes in technology, locations and people, I can say right, what are we doing next and bring on another challenge.
Stuart Brock

Fire Safety Adviser based at Headquarters, Llantrisant
Hi, I am Stuart Brock. I joined South Wales Fire and Rescue Service 15 years ago and have worked in a range of different roles and departments within the Service whilst having the opportunity to develop my career through the excellent training and development opportunities the Service provides.
The majority of my time has been spent in the operational arena. Life on the watch is very varied, no two days are ever the same which is something I particularly like about my role. Duties range from cleaning equipment, maintaining operational competence through training to ensure we provide the best service to those who need our help, to meeting members of the public providing advice on a variety of topics including how to keep people safe from road traffic collisions or fires in the home.
As an operational Watch Manager, I was responsible for dealing with the variety of operational incidents that we attend and also responsible for the day to day running of the watch. I thoroughly enjoy working for a dedicated and professional Fire and Rescue Service and dealing with the variety of daily challenges I'm faced with. Community engagement is an important aspect of the role which enables me to contribute to reducing risk through various avenues to help keep communities safe within a modern day fire service.
I have recently changed roles to work in the Business Fire Safety department where my primary role is to conduct fire safety inspections to premises that fall under the Regulatory Reform (Fire Safety) Order 2005. This allows me to work with external bodies and internal departments to achieve the corporate and legislative goals to identify, target and reduce risk in premises that fall under its scope. This role has allowed me to gain valuable qualifications including a level 4 Diploma in Fire safety where I was supported every step of the way by the Service.
Working in the Fire service is very much like its own family. I have had several jobs before the Fire Service and have not looked back. I don't think there is anywhere else quite like it.