At South Wales Fire and Rescue Service our employees are our most important asset. Regardless of role, all staff make a huge contribution to protecting the communities we serve.
LGBT
The LGBT Group is for all staff who identify as lesbian, gay, bi-sexual or transgendered.  This is the newest networking group and was established in recognition of the commitment to support staff and enable networking as well as social opportunities. Once enough interest has been registered, a meeting will be arranged off-site.
Any details relating to the Group are kept strictly confidential by the administrator.
If you wish to register an interest in the group, or if you have any other questions, please use the email address provided.
Confidentiality is key and any contact will be treated in such a manner.
Please note, this group is only for current employees of South Wales Fire and Rescue who identify as lesbian, gay, bisexual, or transgender. Non-identifiable questions may be asked in order to verify the status of being an employee.
Black and Ethnic Minority Members (B&EMM) Network
South Wales Fire and Rescue Service are a part of The Black and Ethnic Minority Members (B&EMM) network which is a progressive group within the Fire Brigades Union.
It represents, supports and spearheads the equalities agenda for ethnic minority members within their union and the modern Fire & Rescue Service, whilst simultaneously championing equality principles in the wider communities we serve.
Along with offering career guidance and influence in the creation and maintenance of supportive working environments, the group also educate on recognising diversity on the communities we serve. SWFRS are proud to be a part of the B&EMM Network.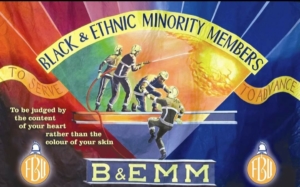 Disability Network 
The staff disability network is intended as a support network for employees and ex- employees of SWFRS who either have disabilities themselves or provide care for someone with a disability.
Whilst the group is in its very early stages, the intention is that the group will provide advice and information and peer support to staff members.
Multi-Faith Staff Network
This network will further meet the support needs of staff in a constructive and professional manner.  It will also enhance the already comprehensive range currently established which includes: LGBT, Disabled, plus access to Networking Women in the Fire Service.
A faith/belief group, who agree and adopt the Terms of Reference for Support Networks, can be set up under the umbrella of the Multi-Faith Staff Support Network.
Some of the benefits for the groups will be the ability to utilise appropriate SWF&RS venues to conduct their meetings or fellowships out of working hours, putting notices up on the intranet, and the use facilities such as photocopying, etc. 
The Multi-Faith Network will consist of representatives from each of the staff faith/belief groups which may be established, and will meet three times a year to share and also to act as a conduit for organisational engagement.
---