At South Wales Fire and Rescue Service the health and wellbeing of our staff and volunteers is paramount. As emergency responders our staff can be faced with additional challenges to their mental health, which has seen increased pressures during the Coronavirus pandemic. Together, with the specialist mental health charity Mind, we are pledging to ensure our staff and volunteers have access to support and tailored resources and training. Mind's Blue Light Programme provides informed information and support, ensuring those who need it have access to the right support, provided in the right way and at the right time.
Funded by the Royal Foundation, who have a long history of raising awareness of mental health and have played a leading role in supporting emergency services. The Blue Light Programme works with the emergency services community, including The Ambulance Staff Charity, Police Care UK and The Fire Fighters Charity to ensure emergency responders have access to high quality mental health resources and training to challenge stigma and improve wellbeing. Beyond the funding of this phase of the Blue Light programme, Mind will continue to support emergency services through their wider workplace wellbeing information and services.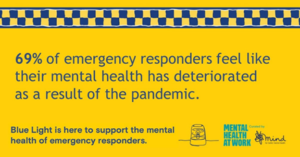 South Wales Fire and Rescue Service, Mental Health Project Lead, Crew Manager David Crews said: "The pandemic has dominated our personal and professional lives but the commitment of South Wales Fire and Rescue Service in protecting the communities it serves during this challenging time is prevalent. Staff across the Service have stepped forward to offer support in the fight against Covid-19, including driving ambulances and volunteering at vaccinations centres. The health and safety of our staff is paramount and we are working closely with The National Fire Chiefs Council and specialist mental health charities including Mind to ensure we offer the right support to keep our people safe and well. We understand working within an emergency service role brings with it its own unique challenges and the Blue Light Programme offers tailored support to our staff when they need it the most. The landscape of wellbeing is continually evolving and we are reviewing and adapting our methods to work holistically with our partners to ensure that our progress within this area is continually monitored and reviewed."
For more information on Mind's Blue Light Programme please visit mind.org.uk/bluelight.