We are delighted to announce South Wales Fire and Rescue Service have reached the finalist stage for 'COVID-19 Outstanding Response' for the GO Awards Wales 2020/21.
The GO Excellence in Public Procurement Awards are dedicated to showcasing organisations that are leading the way in public procurement best practice and recognising excellence in public procurement and the UK supply chain.
This award is a tremendous achievement and highlights the remarkable work our Procurement Team achieved during an extremely testing time for us as a Service.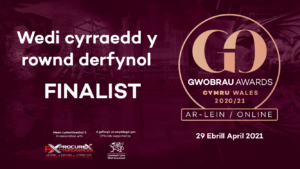 Procurement in Wales is rapidly evolving and with the effects COVID-19 has seen on our economy it is inevitable that public service delivery will be at the forefront of economic delivery. GO Awards Wales, which is open to all public, private and third sector organisations, recognises the hard work and dedication that reinforces the delivery in critical services and provides organisations the opportunity to raise their professional profile and to gain the recognition from those key decision makers leading the way in procurement in Wales.
Geraint Thomas, Head of Finance, Procurement and Property said: "This is excellent recognition of the unseen efforts by all of the team who went way above their normal duties to ensure the Service was able to maintain business continuity throughout a very challenging period. They worked tirelessly to maintain supplies of all essential equipment, specialist PPE and cleaning products, working closely with the service critical incident team, with our valuable suppliers and our key partners across the public sector. A real team effort by all involved which showed the true spirit of South Wales Fire and Rescue Service."
A huge congratulations to all other finalist and we look forward to The GO Awards Wales ceremony which is due to take place on the 29th of April.