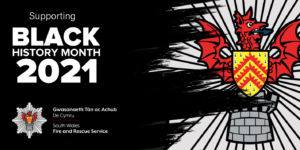 Black History Month  showcases the everyday heroes, innovations, and outstanding achievements made by People of Colour that shaped and improve life as we know it.
BHM provides a great opportunity for us to educate and celebrate the history and contributions of our Black and Ethnic Minority community over the years. The month means different things to everyone and pride for this month is expressed in a variety of different ways.
Here at #TeamSouthWales, we are proud to honour our Black and Ethnic Minority colleagues, and will be sharing their stories so you can too.
The month is a moment of reflection, a reminder to educate and an opportunity for us as a service to support and encourage our SWFRS B&EMM community.
CFO Huw Jakeway said: "Frank Arthur Bailey was a Guyanese-British firefighter and social worker who is known as being one of the first black firefighters in the United Kingdom. Born in 1925 in Guyana, Mr Bailey dedicated much of his life to the fight for equality, breaking barriers along the way. At South Wales Fire and Rescue Service, I am proud that we believe in the true benefits of diversity, and how doing so better enables us to serve all of our communities with dedication and professionalism. In order to keep being the best we can be, It is essential that we continue to actively encourage applicants from a range of ethnic, cultural and heritage backgrounds".
Now is the perfect time to show that as a service, we take genuine, meaningful steps to improving the wellbeing of our staff members from minority groups as celebrating Black History Month is one of the ways in which SWFRS champion's diversity an honours members of #TeamSouthWales
One way to celebrate is to share our staff stories ;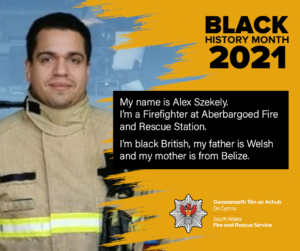 My name is Alex, I'm a Firefighter in Aberbargoed. I joined South Wales Fire and Rescue Service in 2010 at the age of 22. I came home from school one day to see the horrific events of 9/11 on the TV and I was so upset that there was nothing I could do to help. From that day on I knew I wanted to be a Firefighter. My mother is from Belize CA, my father is Welsh. I consider myself black British.
Who inspires you and why?
As a basketball fan, I was inspired by Michael Jordan. His determination, drive, and winner mentality pushes me to be the best I can be.
There is a film I watched about 8 years ago called Glory Road. Its set in the 80's in Texas. It's about a white school, who hire a new white head coach, this white head coach scouts and signs black basketball players for their college team. The way this team is treated, shouted at, screamed at, beaten up, biased game calls all because they're black. Even the white coach because he has black players on his team. He gets harassed, abused, people threaten his job and vandalise his home.
But he sticks with his team because they're the best players. Regardless of skin colour. That film changed my whole mind set on how I look at the world, how I treat people and what I'll do to help others and include everyone. This film made me who I am today.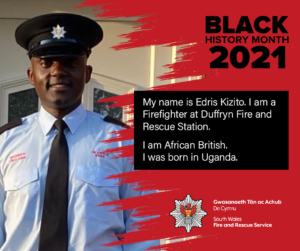 My name is Edris , and I am a Firefighter at Duffryn Fire and Rescue Station.
As a Firefighter, I am in my development stage which I am looking forward to working hard and completing in the next 18months. The new career is so exciting as there is lots of new opportunities plus equipment and processes to learn all for the purpose of serving the people in our communities. My watch is highly experienced and they are kindly helping me to learn.
I joined the fire service 11 years ago and I have previously worked in the Finance department as a Procurement assistant, and also as a CADD technician in the Business Fire Safety department.
I am African British and I was born in Uganda, East Africa.
Who inspires you and why?
Nelson Mandela – His rock hard resilience and reconciliation. Even after a long brutal and painful struggle for justice and fairness under apartheid and eventual 27 years in prison, he stuck to the cause and called for peace and unity rather than retaliation or revenge.
Mark Dodds
My name is Mark and I'm a Firefighter at Cardiff Central Fire Station. I joined South Wales Fire and Rescue Service in 2004 where I worked at Barry Fire and Rescue Station for 10 years before transferring to Cardiff Central Fire and Rescue Station.
I first applied to become a Firefighter in the year 2000, but unfortunately was unsuccessful in the application process. I didn't let this deter me, so I applied again some years later and was finally successful which is where my career in the fire service began. After my first day on station, I knew it was the job for me. Friends of mine would always say that the role of a Firefighter would suit me, and since joining – I realised they were right!
I enjoy working as part of a team, the physicality of the role , the unpredictability of every day and having a connection with the communities we serve.
Who inspires you and why?
My main role model in my life was my Nan, she always supported me, was always positive and never let me down, this is how I try to live my life.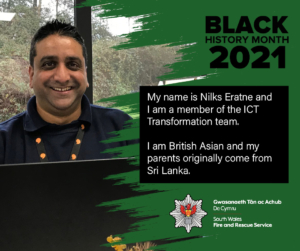 My name is Nilks, and I am a member of the ICT Transformation team –  I joined South Wales Fire and Rescue Service in 2015. I am British Asian and my parents originally come from Sri Lanka. I really enjoy working for the service as it promotes diversity in such a positive way not just in the workplace but also in the wider community.
Who inspires you and why?
I am inspired daily by my family but also inspired by Barrack Obama, one of my favourite quotes from him "Change will not come if we wait for some other person or some other time. We are the ones we've been waiting for. We are the change that we seek"